Heritage workshops
Our education team has come up with a series of workshops to introduce you to local craft skills:
Half-timbered houses
Frescoes
Leatherworking
Stone cutting
Working with earth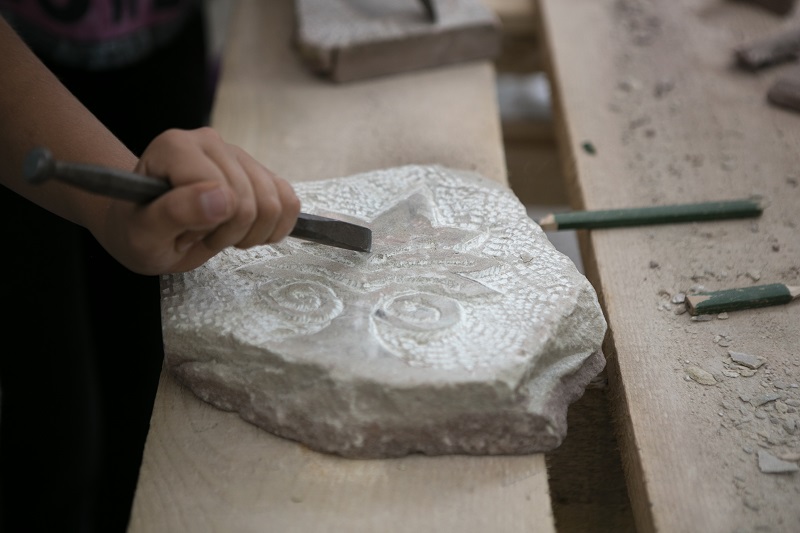 Half-timbered houses :
How does a half-timbered house keep standing? How can the houses be dated?
During the workshop, you will build several different façades and compare them, you'll assemble a 2 x 3 m half-timbered house with its frame and you will find out about the use of cob in the walls.
A CARPENTRY COMPETITION IN TWO HOUSES
A team challenge, where you try to finish your building before the other team!
Frescoes :
A SPECIAL FAMILY WORKSHOP
Fresco derives from the Italian al fresco and describes a technique used to make wall paintings, many of which have stood the test of time
During the workshop, you will take a close look at the wall painting in the building and you will then use natural pigments to make your own fresco, after spreading the lime mortar.
Leatherworking :
During the workshop, you will see how leather is made and will be introduced to leather crafts. You will have a go at embossing leather to bring out a design, using the tools and techniques of the leather craftsman
Stone cutting :
An introduction to stone cutting, based on Romanesque carvings from the Abbey of Andlau and Renaissance bas-reliefs from the Seigneurie.
The workshop will help you appreciate the different styles, based on their specific features and show you how tools and techniques were used to carve a bas-relief on limestone.
Working with earth :
Earth is a natural resource which we have been using since prehistory and which is found throughout the house in different shapes and forms.
The workshop will show you how earth is used and how techniques have developed and you will use traditional tools to make your own bas-relief tile.