The permanent exhibition
Les Ateliers de la Seigneurie is a local cultural development resource, based in Andlau and designed to help visitors explore and understand the heritage both of the Pays de Barr region and of Alsace itself.
The Heritage Interpretation Centre is housed within one of the iconic buildings of the village, a former residence of the Lords of Alsace, which was built between 1582 and 1583 and is a characteristic example of noble Renaissance architecture.
The permanent exhibition covers the 1st, 2nd and 3rd floors of the Seigneurie, a total of 700 m² and examines themes relating to architecture, wine production and crafts.
The various aspects of local heritage are explored through exhibits illustrating the building itself and its archaeological digs, local half-timbered houses and castles, religious architecture, wine production and crafts.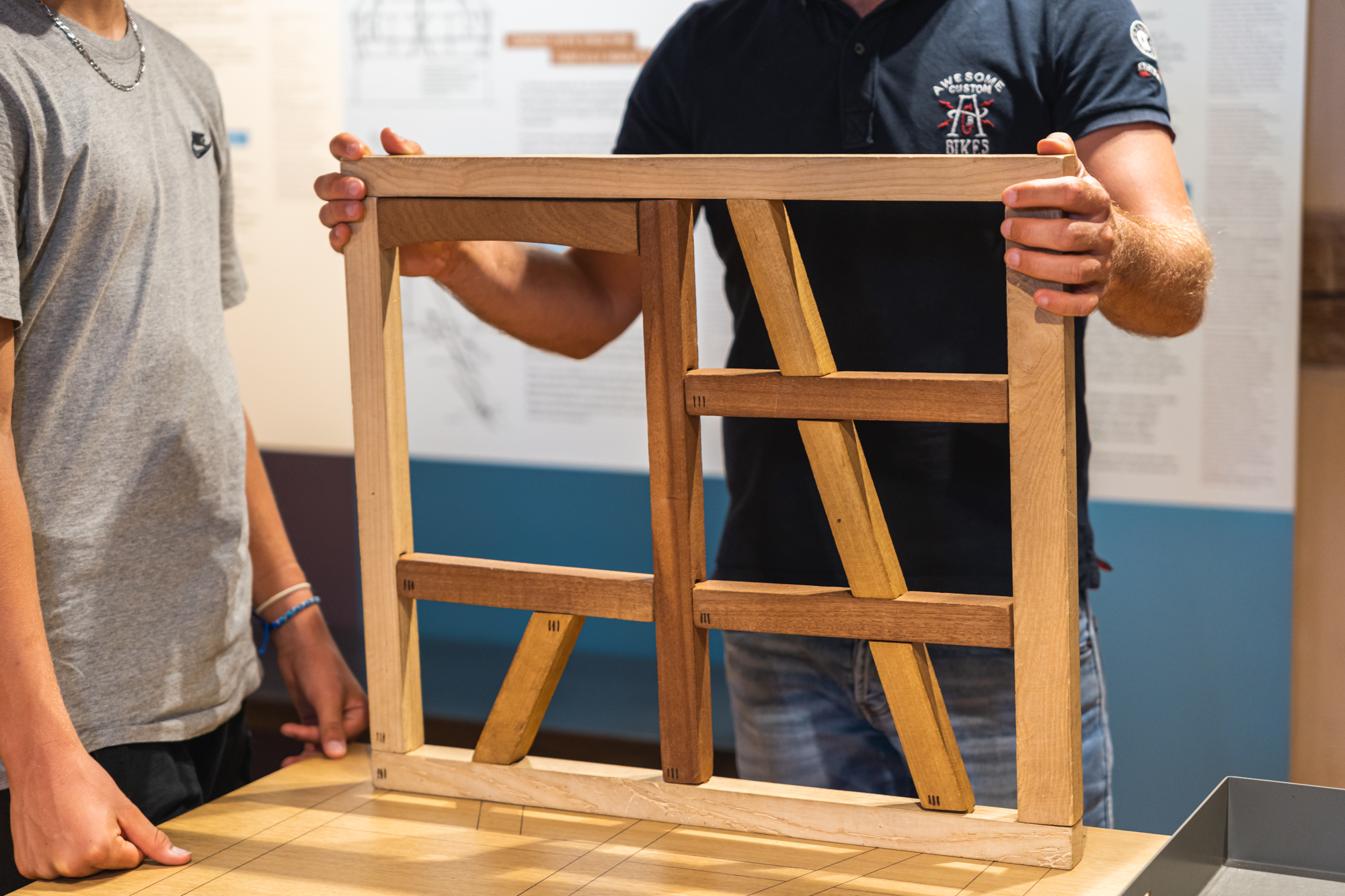 Guided tour - half-timberes house room
1st floor : living in the Pays de Barr
The exhibition on this floor sets out to explain the buildings local people lived in. It shows the archaeological explorations of the Seigneurie, which have given us a better understanding of the daily lives of the Lords of Andlau in the Renaissance period, as well as the materials which have given shape to our heritage and the half-timbered houses which are so typical of Alsace.
2nd floor : temporal powers, religious authorities
In the Middle Ages, the Pays de Barr, like the rest of Alsace, was made up of a number of fiefdoms, each of which was governed by a secular or religious authority. The 2nd floor explains how these two different authorities governed and what they achieved. Temporal power, for example, was the driving force for building castles and fortified towns, while spiritual power saw the construction of Catholic or Protestant churches and synagogues.
3rd floor : production in en Alsace
The Pays de Barr is a region proud of the expertise which has given it a long craft and winemaking legacy.
Alsace has 51 Grands Crus wines, 8 of which are to be found within the Pays de Barr. The exhibition explains how winemaking developed, the techniques used and the notion of terroir.
Local craft expertise covers marquetry, woodwork, stone carving and pottery and these are explored through objects and artworks, information panels and interviews.
Enjoy your tour !