Guided tours
Les ateliers de la Seigneurie offers 5 guided tours which will take you right into the heart of Alsatian heritage and show how human activity has shaped our territory
The permanent exhibition of les Ateliers de la Seigneurie
The temporary exhibitions
The Abbey of Saint Peter and Paul
Andlau's half-timbered houses
The village of Andlau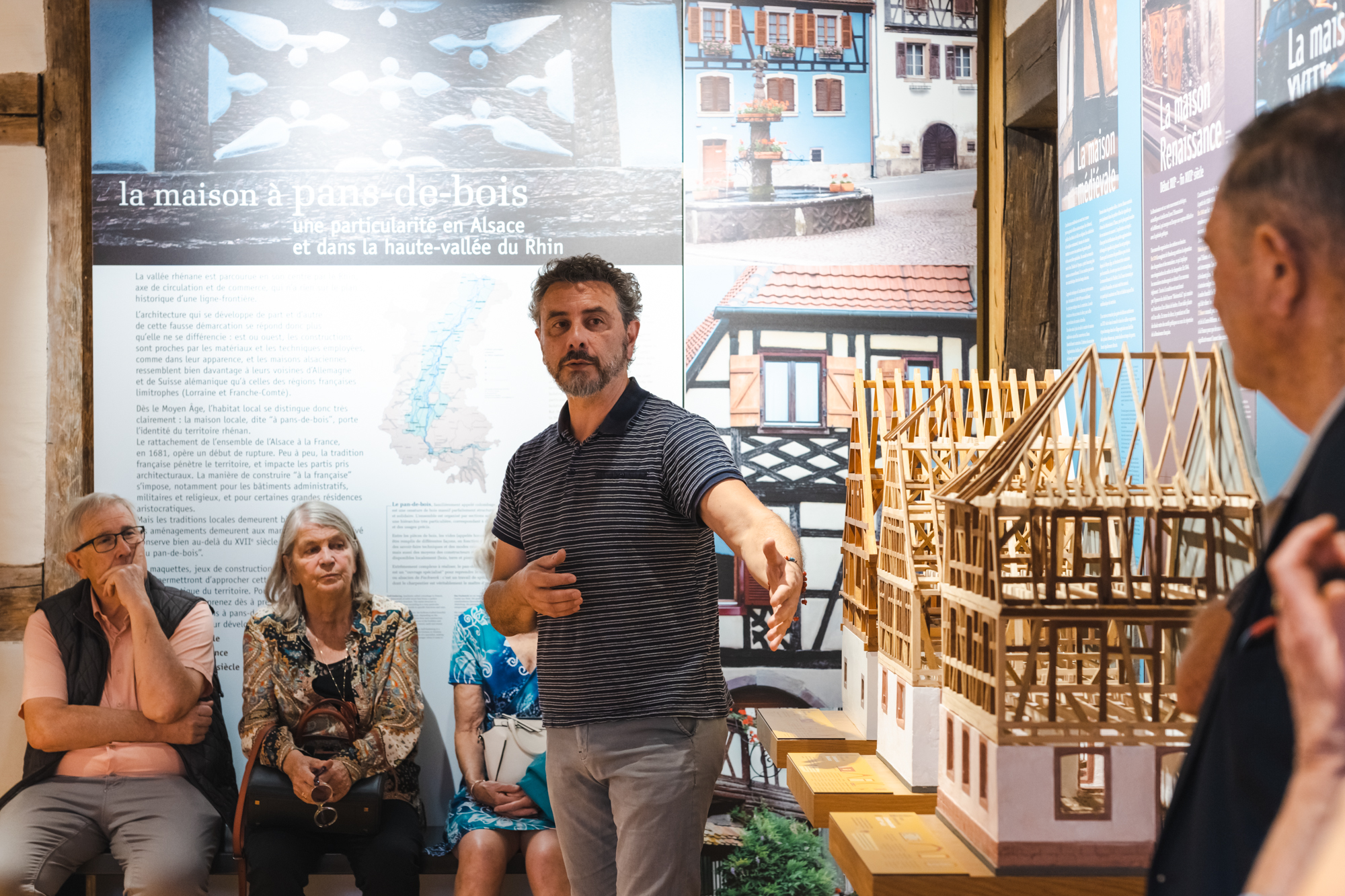 A walk round les ateliers de la Seigneurie :
This indoor trail covers 700 m² in a magnificent Renaissance residence, built in 1582 by the lords of Andlau. The tour will introduce you to iconic landmarks of the Pays de Barr and beyond and will highlight the skill of the craftsmen who have shaped the land and the villages. You'll find out all about the local half-timbered houses and their dating system, the concordat religions and their places of worship and also how the fortresses were built.
Temporary exhibitions :
We put on two temporary exhibitions per year, around a variety of themes relating to the territory, its history and its heritage.
Contact us to find out what is currently on, we would be delighted to organise a guided tour for you.
A tour of the Abbey of Saint Peter and Paul :
Andlau is a charming village on the wine route, with a character all of its own, forged by its unusual history. The fiefdom of the lords of Andlau, the village, dominated by the 9th century abbey, was part of a political chequerboard, around which manoeuvred the Emperor, local lords, the Bishop and the abbey – hardly an insignificant group! The tour will take you round the village and help you understand the location of the abbey and interpret the Romanesque carvings, one of the gems of this artistic period in Alsace.
The tour of Andlau's half-timbered houses :
These houses are an inherent part of both the villagescape and of Alsace itself and play an important role in the daily life of the local inhabitants. What is strange, however, is that few people really understand them. Experience for yourself how a mediaeval house like this was built and walk round the village to find out the dates of the houses. It's a hands-on history lesson that will help you appreciate the talents of our carpenters.
The tour of Andlau :
The tour of Andlau will show you its history, right from its beginnings – a story told through its legends, its streets and its remarkable buildings.