Le Hohwald waterfall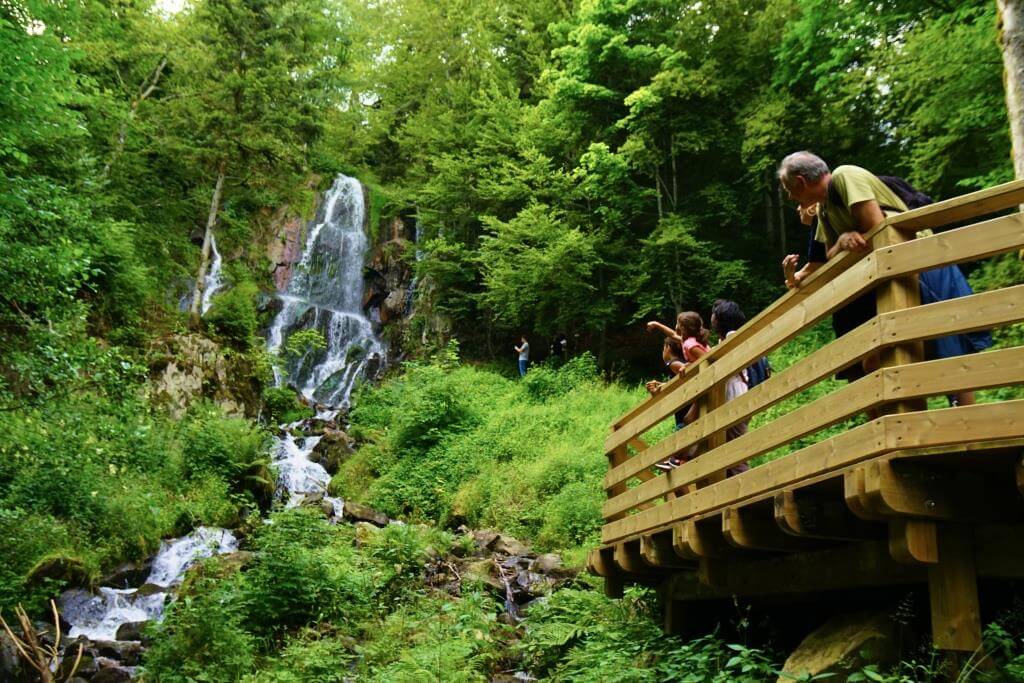 La cascade du Hohwald ©Studio_Pygmalion
Le Hohwald is a small village perched at an altitude stretching from 600 to 1100 m, just a few minutes' drive from Mont Sainte-Odile, the spiritual centre of Alsace.
What is fascinating about the waterfall and its surroundings is how they change so much over the seasons. When you go there on a sunny day, you see greenery everywhere, dominated by the forest and its panoply of trees.
The birds give voice to their songs, the air brings a pleasant coolness even when the weather is at its summer hottest and you might even see some brave folk dipping their feet into the icy waters of the river.
In autumn, the green turns to orange and when the leaves fall to the ground, we can enjoy the crackling they make as we walk on them, while admiring the splendour of the different colours.
The coming of winter brings the whiteness of the snow, a season where time seems to stop and the silence is broken only by the sound of the falling water.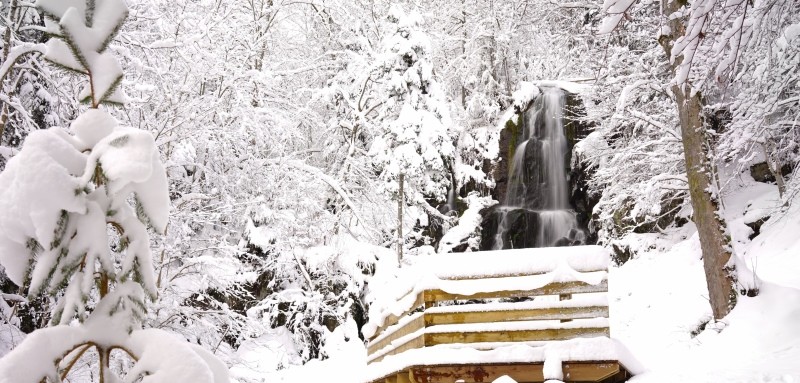 You can, though, get to the waterfall any time of year, you just have to dress according to weather conditions.
There are two ways of getting there : the first is for people who like a good hike – a 6 km loop which you can do in 1½ hours, through the forest and the village of Le Hohwald.
The second way is more direct and you can leave your car in a car park just outside the village, going towards the Col du Kreuzweg. You walk along the track for 800 m, 5 minutes, with a climb going up 250 m. You'll feel it a bit in the calves, but it's nothing too difficult.
Whichever walk you decide to take, you'll need a good pair of shoes.
You'll find a picnic table and benches by the waterfall or you can have a bite to eat in the village.
My absolute favourite, whether with the kids or simply with friends who love fresh farmhouse produce, is the Lindenhof Ferme-Auberge, a farm near the waterfall, about 100 m from the car park, where they serve meals made from what they have on the farm. The kids love it, with the rabbits, chickens, cows, calves, pigs and horses they can find there.

There's no big menu, you've got the chef's daily special, which could be chicken, veal, game or some of the cheese they make on the farm, or if that doesn't appeal, there are enough suggestions to please everyone. Be sure to try the farm's own tomme cheese before you leave.
The extra :
From June to September, at the tourist office (Office de Tourisme), you can sign up for a Croq'Rando, a picnic cum hike around Le Hohwald. You'll be given a lunch basket, which you take with you for a 90-minute hike which includes the waterfall. Watch the video to get an idea of it.